BIMI nu allmänt tillgänglig för Gmail
Den 12 juli tillkännagav Gmail den efterlängtade avrundningen av deras BIMI-pilot och nu är därmed BIMI lanserat som allmänt tillgänglig för varumärkesägare. Under de kommande veckorna kommer det att fortsätta rullas ut stöd till alla som vill skapa en säkrare e-postupplevelse för sina kunder.
"BIMI provides email recipients and email security systems increased confidence in the source of emails, and enables senders to provide their audience with a more immersive experience."
– Google
Tidiga studier gjorda av Verizon framhäver ökad öppningsfrekvens på upp till 10%, tillsammans med ett löfte om ökad leveransbarhet. Därför är det inte konstigt att marknadsförare över hela världen har väntat ivrigt på att Gmails pilot ska avslutas, sedan den tillkännagavs i juli 2020.
"Brands' abilities to control their logos when sending emails, newsletters, receipts and offers is invaluable. Like those using consistent vanity URLs and display names across social media profiles, BIMI's approach gives control to brands of their own imagery, offering consistency, conveying trust and increasing recognition and reach. "
 – BIMI Working Group
För att kunna använda BIMI med Gmail måste organisationer implementera Domain-based Message Authentication, Reporting & Conformance (DMARC), detta säkerställer korrekt validering av e-postmeddelanden, samt även införskaffa ett Verified Mark Certificate (VMC) som validerar varumärkeslogotyper.
Så här ser processen för implementering av BIMI ut: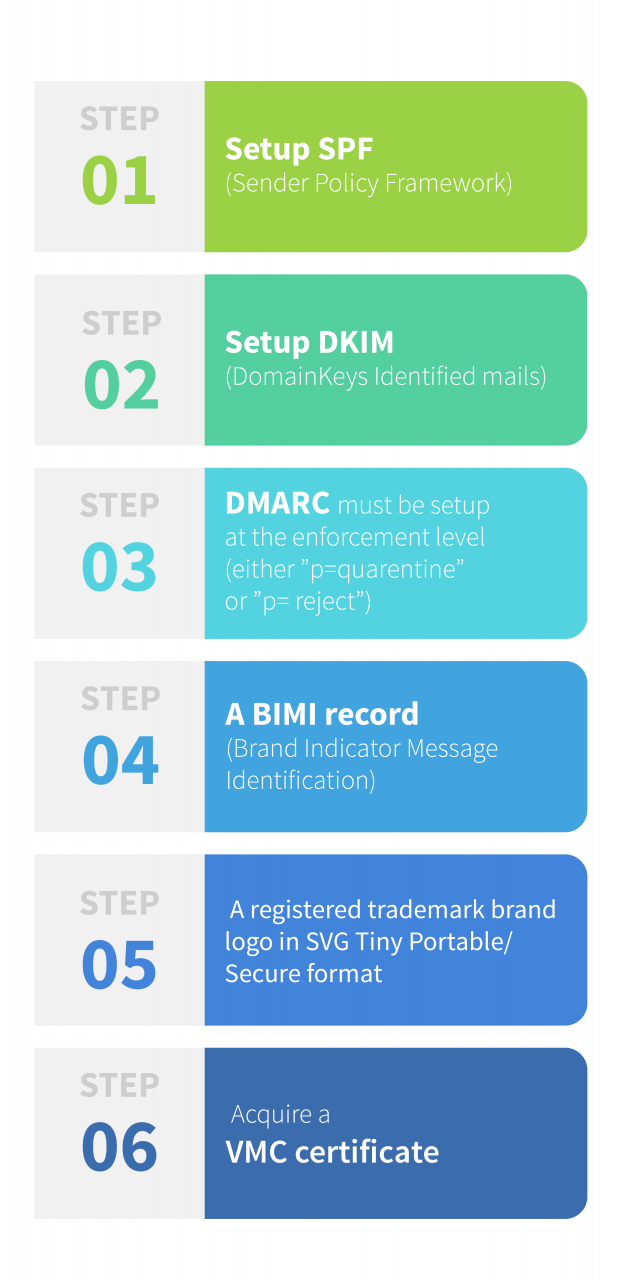 För mer information om kraven kan du läsa vårt tidigare blogginlägg
Kontakta Dotkeeper, eller fyll i formuläret nedan, om du vill undersöka hur din organisation kan implementera BIMI och öka e-postsäkerhet, leverans och öppningsfrekvens.