How to take control of domains that can benefit or damage your brand.
Part 1 of 2 – The Legal Route.
Are you in control of your domain names? If the answer is yes, then that is great! It means you are one step ahead of many others.
And frankly, not being in complete control of your domain names is a brand security risk, and it might eventually translate into huge, unwanted costs.
If you find yourself in a situation where someone else is in control of a strategically important or infringing domain name, then this post is for you. In this blog series, we will discuss the various tools and routes available to you.
Let us start with The Legal Route, which is applicable when another party is infringing on your brand digitally.
The Legal Route – an effective tool for trademark holders
Nowadays, your domain is so much more than a digital space for your website. It is the digital extension of your brand. It is tied to several operationally critical functions, while also serving as the cornerstone for building brand awareness. In many cases it is the primary revenue stream.
At the same time, from the perspective of a trademark owner, the digital space is fundamentally flawed. This is because the control of this space, or the offering of tools to control this space, was an afterthought: Domains have been, and to a large extent still are, registered on a first-come, first-served basis, and originally there was no way for anyone to defend their rights outside of the courtroom. The digital space is global and complex, leading to a host of problems that are turning out to be far too costly and difficult to navigate for most brands.
Luckily, there is the UDRP (Uniform Domain Name Dispute Resolution Policy).
The Uniform Domain Name Dispute Resolution Policy (the UDRP) establishes the legal framework for how to resolve disputes between a domain name registrant and a third party (i.e., a party other than the registrar) with regards to abusive registration and use of domain names. It has provided trademark owners with a more cost- and time efficient method of controlling digital spaces.
The use of this process is growing yearly. In 2021, 5128 UDRP cases were filed with WIPO (World Intellectual Property Organization), which is a 22% increase from the previous year.
Of these 5128 cases, 71% were successful or "in favor of the complainant", proving its effectiveness in gaining control of infringing domains registered by malicious actors.
Assessing the best way forward – how we do it
What you see below is the structure that we at AWA | Dotkeeper follow when helping our clients gain control of a domain name.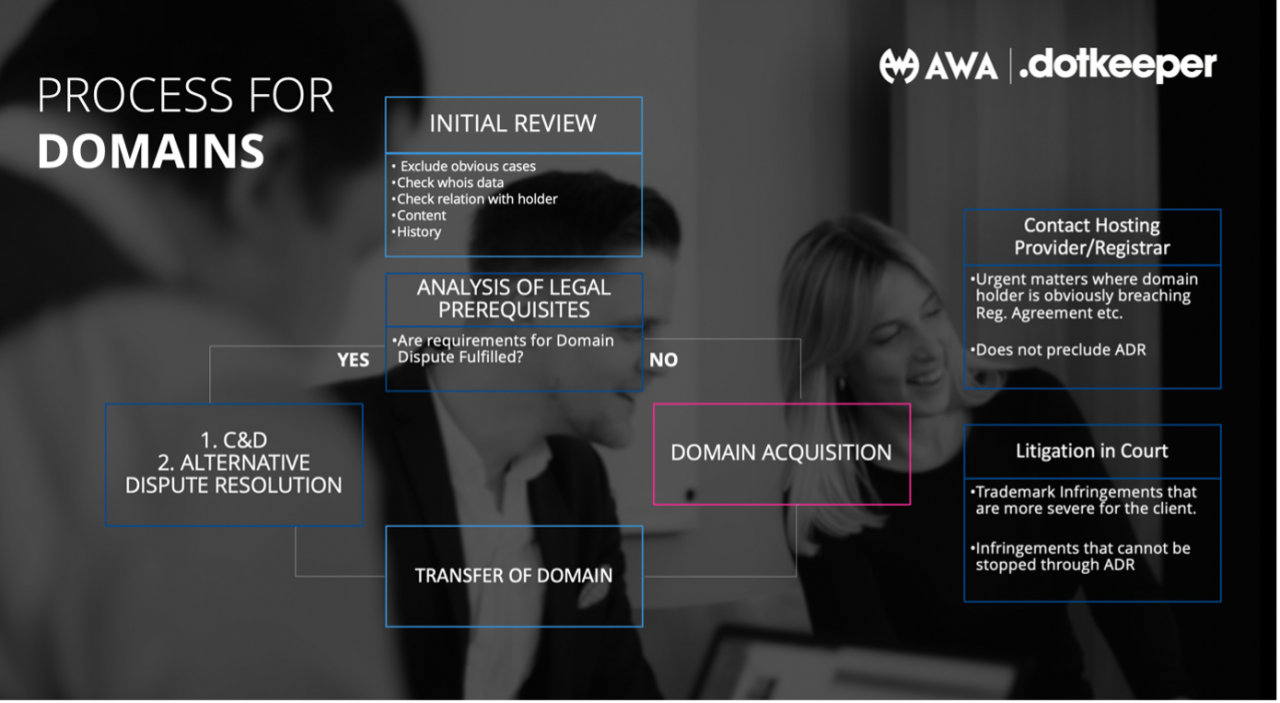 We always start with an initial review, to determine whether we should take the legal route or if it is better to acquire the domain name. We go through a few steps to ensure that you do not spend unnecessary resources trying to take a domain down:
Exclude obvious cases: Is it a generic domain name, such as 'snow', 'butterfly' or anything like this? If it is, it might be harder to claim the domain as yours.
Check WHOIS data: To understand when the domain was registered, where it is registered, where its DNS is, and if possible, who owns the domain.
Check relation with holder: We do this to understand if you know the domain registrant or have a relationship of any sort with them. Examples of relationships are staff, distributors, etc. You do not want to take legal action that might damage a relationship or cause unnecessary costs.
Content: We examine the website to gain an understanding of its purpose and gather evidence in case of an infringement.
History: The last step of the initial review is to check the domain's history.
Is there ground for dispute?
When we have completed the initial review, we analyze the legal prerequisites for a UDRP case. Is there ground for dispute? We look at three elements:
The domain name is identical or confusingly similar to a trademark or service mark to which the complainant has rights.
The domain holder has no rights or legitimate interests with regard to the domain name.
The domain name has been registered and is being used in bad faith.
If all the prerequisites are met, we will most likely recommend you take action through an applicable Dispute Resolution Service.
Before commencing a dispute, we will first contact the holder, normally through a cease-and-desist letter. The goal is, if possible, to find an amicable solution.
Depending on the other party's response, we will either transfer the domain to you or file a UDRP complaint.
Normally, the whole procedure does not take more than a couple of months.
 However, if the prerequisites are not met, you should not commence a UDRP.
Filing an unsupported UDRP might compromise your chances of obtaining the domain if not successful.
It might affect the price negatively if you intend on acquiring the domain.
It creates bad will.
Alternative tools for more severe or urgent infringements
If the analysis indicates more severe, or recurring, infringements, there might be ground for litigation in court instead of UDRP.
There are additional tools to utilize in borderline cases. For example, in urgent cases, it is possible to contact the registrar/hosting provider if there is an urgent need to shut down the site due to illegal or harmful content, phishing etc.
Important: Choose one route or another
We advise choosing one route or another as they can affect each other. Attempting to acquire the domain before opting to enforce legal action might compromise the chances of succeeding in the UDRP.
In the next part of this series, we will focus on The Acquisition Route, which means purchasing the domain from the current owner. Sometimes, when legal action is not sufficient or applicable, this is the best alternative. But, until then, we are here to help guide you on how you can and should act if another party owns the domain name you want, or perhaps most importantly, you are entitled to. Contact us!