Cybersquatting – A Real Threat to Modern-Day Brands
One of the most common types of trademark infringement that affect companies today is malicious domain registration made by a third party (cybersquatting). Available data shows that this is a more common issue than, for example, infringement through social media or marketplaces. In a survey by CompuMark, 44% said that they had issues with domain name infringement as opposed to e.g. social media (38%) and marketplaces (38%).
This can bring about serious consequences because it is important that your clients can trust that you are you. According to the same report from CompuMark, consumer confusion is named the biggest consequence of trademark infringement – mentioned by 45% of the brands. Loss of revenue (38%) and damage to brand reputation (37%)  are also mentioned as consequences.
Hoping to help fight the phenomenon of cybersquatting more effectively, EUIPO released the report FOCUS ON CYBERSQUATTING: MONITORING AND ANALYSIS earlier this year. The study aims to quantify the phenomenon and provide information regarding the methods and business models of cybersquatters.
The results of the study show that cybersquatting is a real issue for companies today, and that it must be handled. This is because it poses a threat, which in the worst case can damage a company and its reputation.
EUIPO's analysis focuses on 20 brands, all of which are legally registered trademarks. In order to identify infringing domains, a global search was undertaken, and the results thereof were analyzed further. Surprisingly enough, EUIPO identified 55,181 domains in total. Of course, several were owned by the brands themselves, but in addition to that there were domains with a more malicious motive. Out of all these, 100 domains were then randomly selected for further analysis of each trademark.
Of the domains that were further analyzed, around 49% contained suspicious activity. The remaining domains belonged to the brands themselves or were used for other legitimate purposes.
So, for which purposes were these domains with suspicious content used? The chart below shows the distribution. Around 10% of the domains were for sale. Most of them were websites selling counterfeit goods or websites engaging in fraud, phishing, or distribution of harmful code.
Judging from the data, the cybersquatters' most frequently used top-level domains are "legacy gTLDs", that is, generic top-level domains which were not a part of the New gTLD Program launched in 2014.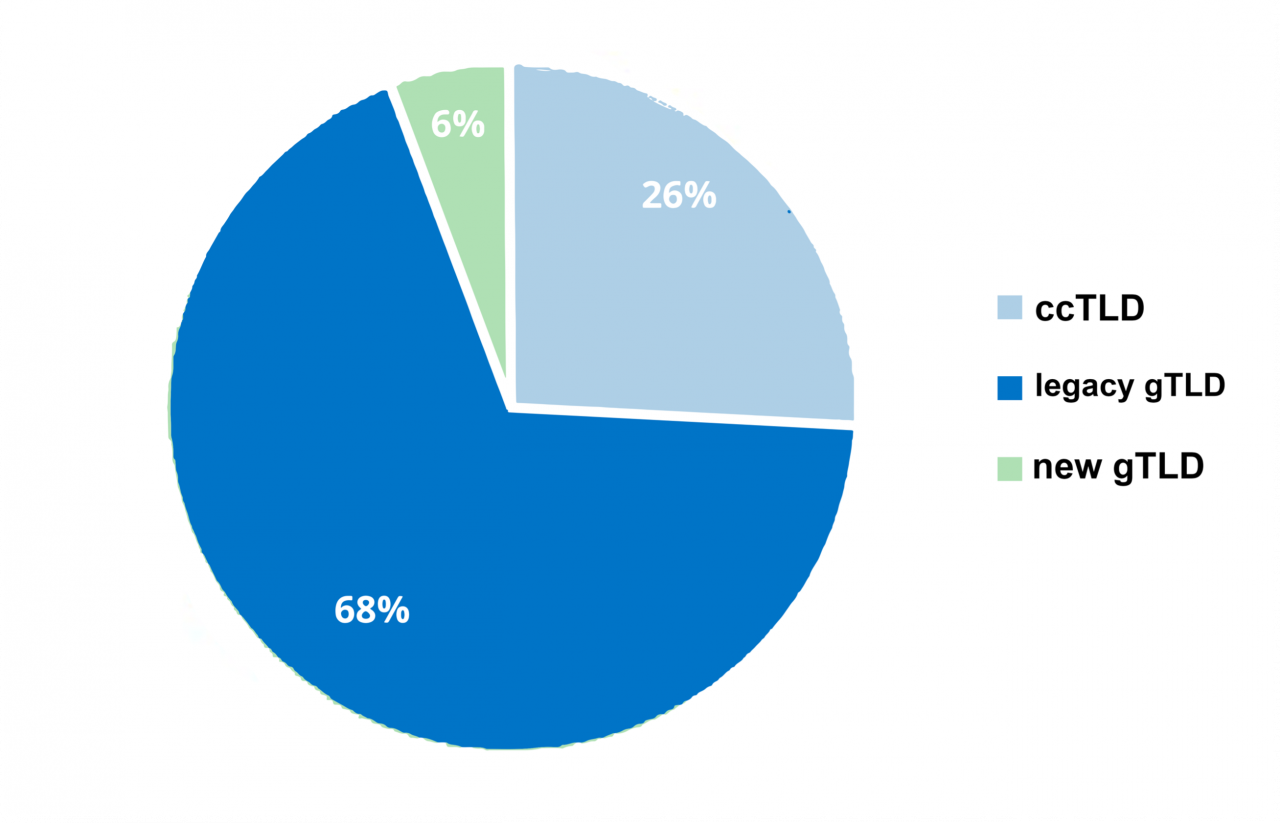 Another thing that becomes clear is that the most common type of cybersquatting is using domain names containing the trademark. These represented a whole of 85% of the domains analyzed.
What can you, as a trademark owner, do to protect your company? You must have the foundation with a correct legal and digital protection firmly in place. Ensure that you have the right legal protection, e.g. trademark, design and patents. With regards to the digital name protection, your domain portfolio and name strategy are critical.
A good way of looking at your domain portfolio is to split it into two sections, one proactive and one reactive.
The proactive section should mirror your trademark strategy and cover the markets on which you are active today, as well as the markets on which you plan to be active within a few years. This part of the strategy and portfolio aims at defending your interest, and consists of domains generating value, either from income, traffic or by protecting your trademark. Do not leave anything of value open to cybersquatters, because if anything were to happen it will be much more costly than the cost of registering the domain names proactively.
The reactive section is wider. Here, you monitor potential deviations from your own policies and registrations as well as protect yourself against third party activity in the most appropriate manner.
To sum it up – You protect yourself by striving to own what is important and by monitoring that which is not. That way you are well protected, making you less vulnerable.